Debit & Credit Cards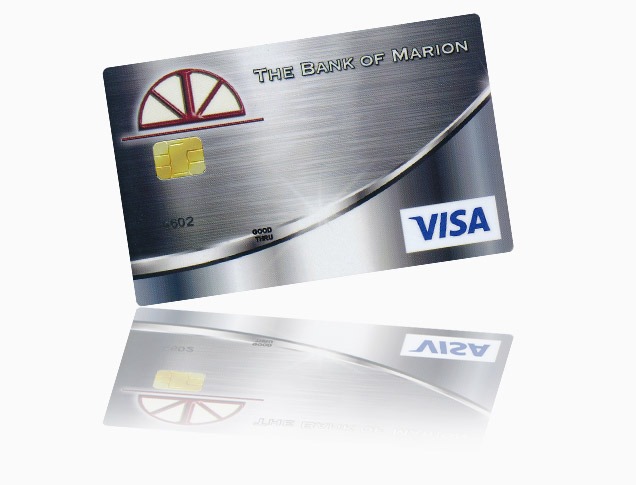 OUR VISA® DEBIT CARD WITH CHIP TECHNOLOGY
It's our trusted VISA® CHECK CARD™ but with even better chip security.
Our Visa® CHECK CARD contains an embedded microchip as well as a traditional magnetic strip. Chip cards are sometimes referred to EMV Cards or Smart Cards. Chip technology is the new universal security standard because it encrypts information for better protection against counterfeit fraud. With our new chip debit card, you're ready for the future.
Most Point of Sale terminals and ATMs are routinely accepting chip cards. However, if you should encounter a terminal that doesn't yet accept chip cards, the magnetic strip on your card will work fine.
An important tip for even more security:
When you use your CHIP DEBIT CARD for purchases, you receive extra security protection when you select and sign for CREDIT.
When you insert your debit card into the terminal, you will be prompted to either enter your PIN for debit or provide your signature for credit.
In either case, the transaction is processed the same way and funds are taken directly from your checking account. However, selecting the credit option provides maximum security.
The Visa® Zero Liability Policy is your guarantee that you will not be held responsible for unauthorized charges made with your account. You are protected if your Visa debit card is lost, stolen or fraudulently used.
We offer higher daily limits on retail point-of-sale purchases and higher daily limits on ATM withdrawals:
Debit Card Daily Limits

| Type of Card | Retail Point of Sales Purchases | ATM Withdrawals |
| --- | --- | --- |
| Personal Debit Cards | $2,500 | $1,000 |
| Business Debit Cards | $2,500 | $1,000 |
New Visa® Check Card customers receive the new chip card when they sign up. Current debit card customers will receive a new chip card upon renewal.
Existing customers may get a new chip card upon request at any of our full-service branches if they don't wish to wait for renewal.
Make your new Bank of Marion Visa™ Check Card your constant companion and you'll always have instant buying power at your fingertips and cash when you need it from our ATM network.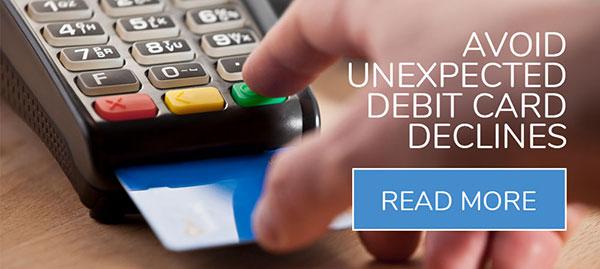 Check your credit card statement online, anytime.
Note: To report a lost ATM or debit card or possible card fraud during regular banking hours, call 800.772.1807. After regular banking hours, call 800.889.5280.
---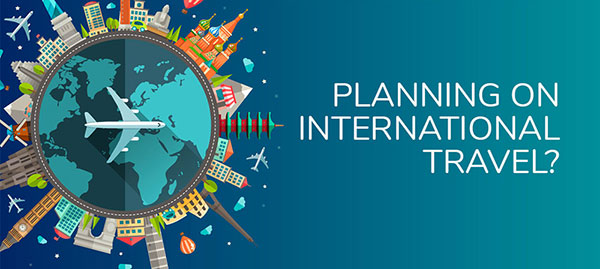 Be sure your Bank of Marion Visa Card will be available for use outside the USA.
Due to fraudulent debit card transactions occurring internationally, your Visa Check Card will be blocked from signature-based transactions outside the United States. You may request that your card be excluded from this block by contacting The Bank of Marion at 1.800.772.1807 or 276.783.3116.
You may also contact us by email at ibssupport@bomva.com
We don't restrict international card usage at ATMs or transactions with your PIN number at merchants that accept PIN (debit) based transactions.
---
OUR CREDIT CARDS
Hometown Credit Cards with Worldwide Acceptance
Our Visa credit cards are accepted in over 200 countries and territories worldwide by 44 million merchants. Whatever your spending habits, we offer a card to fit your needs, backed by Visa's safe, secure and trusted network.
Visa™  
Visa Gold™  
Visa Platinum™ 
MasterCard™  
Make your new Bank of Marion Visa™ or MasterCard™ your constant companion and you'll always have instant credit at your fingertips
Call for details: 276.783.3116 or 800.772.1807
 
---
Debit Card Designs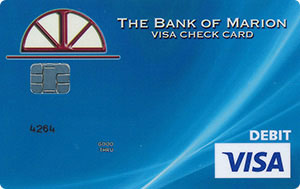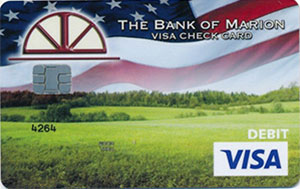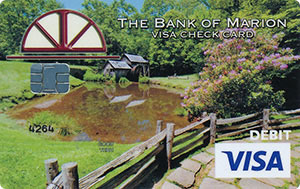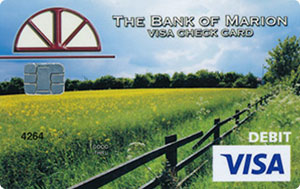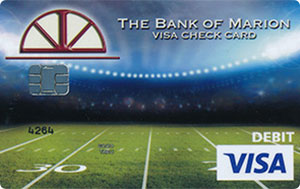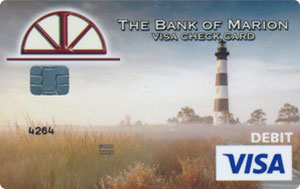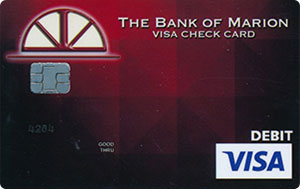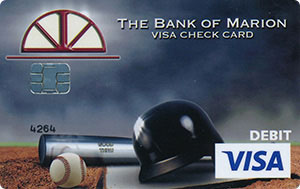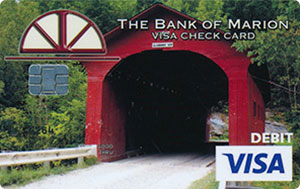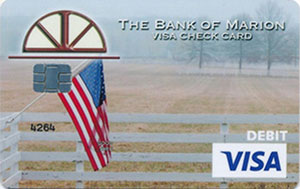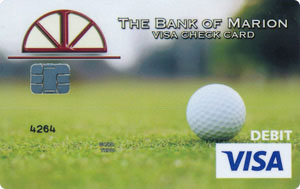 Business Debit Card Designs