Debit & Credit Cards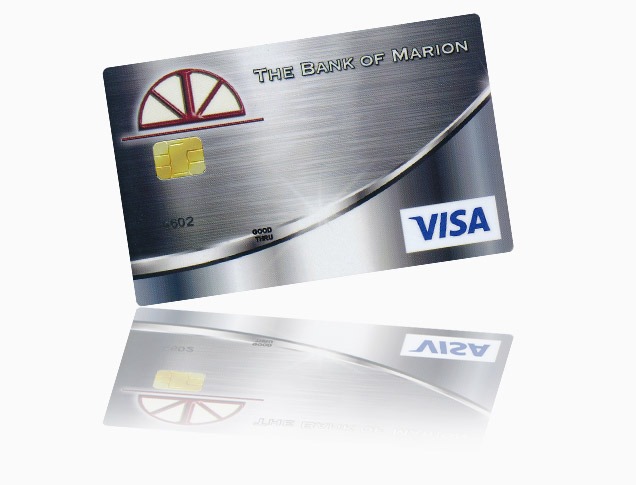 DEBIT CARD USE TRENDS UPWARD
Consumers are increasingly using debit cards as their preferred payment method during the COVID-19 pandemic. Studies show that debit card usage is increasing significantly for purchases from grocery stores, pharmacies, clothing stores, and sellers of consumer goods in general. Here in our region, our debit card is more popular than ever.
Consumers seem to feel that making purchases by card rather than handling cash or writing checks is safer because the probability of spreading germs and viruses is lessened. Another reason voiced by researchers is a personal one: Many people like the feeling of using their own money for purchases now rather than delaying payment until later.
 
OUR VISA® DEBIT CARD USES CHIP TECHNOLOGY
SHOP WORRY FREE! Your Bank of Marion debit card is one of the safest ways to make purchases or other transactions.
Here's why:
Look at the little VISA™ sign on your card. It means that your card is covered by VISA's Zero Liability Policy!  It's your guarantee that you will not be held responsible for unauthorized charges made with your account. You are protected if your Visa debit card is lost, stolen or fraudulently used. Check it out: Visa® Zero Liability Policy.
FOR MAXIMUM SECURITY, ALWAYS RUN YOUR DEBIT CARD AS CREDIT.     
This adds yet another layer of security.
REMEMBER. NEVER GIVE OUT YOUR DEBIT CARD PIN TO ANYONE. PERIOD.
 
---
We offer higher daily limits on retail point-of-sale purchases and higher daily limits on ATM withdrawals:
Debit Card Daily Limits

| Type of Card | Retail Point of Sales Purchases | ATM Withdrawals |
| --- | --- | --- |
| Personal Debit Cards | $2,500 | $1,000 |
| Business Debit Cards | $2,500 | $1,000 |
New Visa® Check Card customers receive the new chip card when they sign up. Current debit card customers will receive a new chip card upon renewal.
Existing customers may get a new chip card upon request at any of our full-service branches if they don't wish to wait for renewal.
Make your new Bank of Marion Visa™ Check Card your constant companion and you'll always have instant buying power at your fingertips and cash when you need it from our ATM network.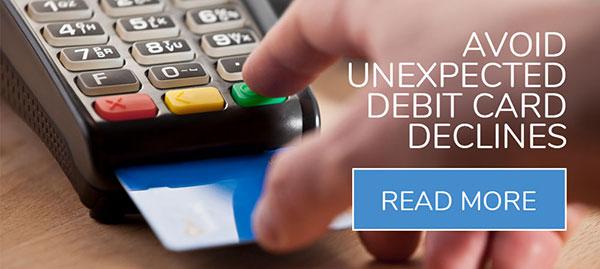 Check your credit card statement online, anytime.
Note: To report a lost ATM or debit card or possible card fraud during regular banking hours, call 800.772.1807. After regular banking hours, call 800.889.5280.
---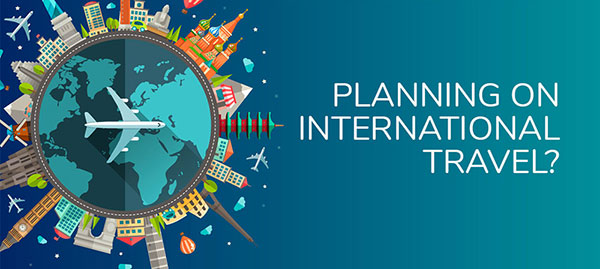 Be sure your Bank of Marion Visa Card will be available for use outside the USA.
Due to fraudulent debit card transactions occurring internationally, your Visa Check Card will be blocked from signature-based transactions outside the United States. You may request that your card be excluded from this block by contacting The Bank of Marion at 1.800.772.1807 or 276.783.3116.
You may also contact us by email at ibssupport@bomva.com
We don't restrict international card usage at ATMs or transactions with your PIN number at merchants that accept PIN (debit) based transactions.
---
OUR CREDIT CARDS
Hometown Credit Cards with Worldwide Acceptance
Our Visa credit cards are accepted in over 200 countries and territories worldwide by 44 million merchants. Whatever your spending habits, we offer a card to fit your needs, backed by Visa's safe, secure and trusted network.
Visa™  
Visa Gold™  
Visa Platinum™ 
MasterCard™  
Make your new Bank of Marion Visa™ or MasterCard™ your constant companion and you'll always have instant credit at your fingertips
Call for details: 276.783.3116 or 800.772.1807
 
---
Debit Card Designs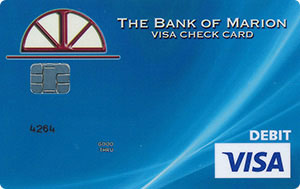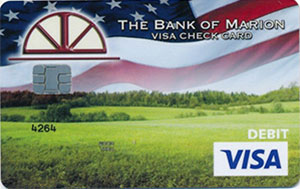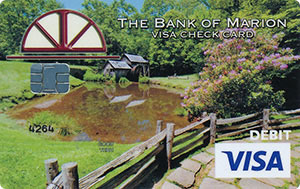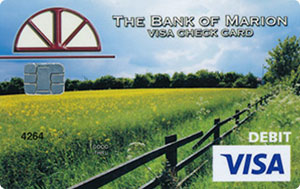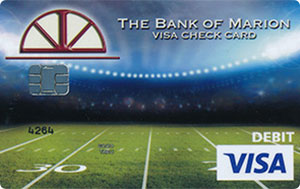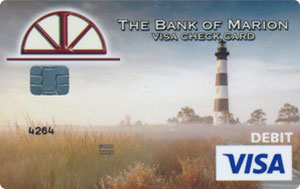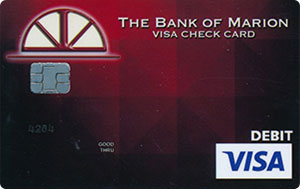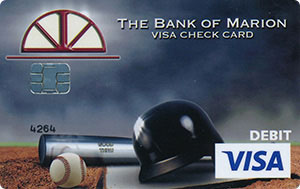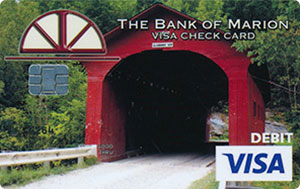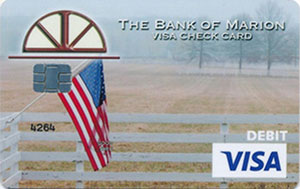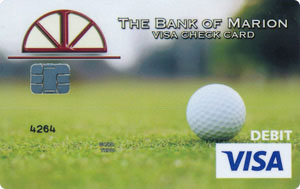 Business Debit Card Designs