YOUR SECURITY
At our bank, security is our number one priority. Our customers can rest assured that we utilize best and latest security software tools available, along with constant vigilance by our security and tech staff, to safeguard your data. You should also know that there are some things you can do yourself to greatly decrease the possibility of fraud and identity theft.
Reviewing the information below and checking out the links to more important security information will be well worth your time.
---
TWO NEW SCAMS ARE ACTIVE IN OUR AREA!
PUBLISHER'S CLEARINGHOUSE SWEEPSTAKES SCAMS JUST KEEP COMING!
Cybercrooks continue to recycle Publisher's Clearinghouse scams. They do it because anyone would be thrilled to get a call saying they have won the sweepstakes. However, the odds are overwhelming that such a call is fake.
Victims who receive these fake calls are pressured to give the crooks their bank account number, debit card number, or social security number in order to receive their sweepstakes cash. The crooks then use that personal information to clean out the victim's bank accounts.
Or, the victim may be pressured to send the crooks money in the form of a check, money transfer, or pre-paid gift cards.
Protect yourself. If anyone calls and asks for a payment in order to receive a sweepstakes prize, hang up the phone!
If anyone calls and asks for your bank account number, debit card number, or social security number in order for you to collect your prize, hang up the phone and call your bank immediately!
More information about Publisher's Clearinghouse scams is available here:
https://www.consumer.ftc.gov/blog/2018/04/publishers-clearing-house-imposters-keep-coming
https://www.bbb.org/article/news-releases/18876-scam-alert-winners-lose-big-to-publishers-clearing-house-scam
---
DIRECT TV / AT&T SCAMS ARE ON THE RISE!
There are several versions of this scam targeting customers of DirecTV, which is now owned by AT&T.
In many versions, the crook will call DirecTV customers and claim to be a DirecTV representative. The crook will then offer half-price monthly bills, subscription or equipment upgrades, and/or pre-paid debit cards. The victim is then given a toll-free number to call to take advantage of this fake offer. The crook says the toll-free number is "proof that this is not a scam."
Don't be fooled. When victims actually call the provided number, they are pressured to give the crooks their bank account number, debit card number, or other personal information.
If anyone calls and asks for your bank account number, debit card number, or up-front payments for you to take advantage of their too-good-to-be true offers, hang up the phone and call your bank immediately!
---
10 Things You Can Do to Avoid Fraud
From The Bank of Marion Security Department and the Federal Trade Commission
Crooks use clever schemes to defraud millions of people every year. They often combine new technology with old tricks to get people to send money or give out personal information. We offer the following practical tips to help you keep your money and your identity safe:
Spot imposters. Scammers often pretend to be someone you trust, like a charity, a government official, a family member, or a company that you do business with. In our region, a crook will often pose as an employee of your bank. Remember: NEVER give out any personal or financial information and NEVER send money in response to an unexpected request, whether it comes by a phone call, a text or an email.
Don't believe your caller ID. Technology makes it easy for scammers to fake caller ID information, so the name and number you see aren't always real. If someone calls asking for money or personal information, hang up. If you think the caller might be telling the truth, call back to a number you know is genuine.
Don't pay upfront for a promise. Someone might ask you to pay in advance for things like loan offers, mortgage assistance, or debt relief. They might even say you've won a prize but first you have to pay taxes or fees. If you do, they can take your money and disappear. 
Consider how you pay. Credit cards have significant fraud protection built in, but some payment methods don't. Wiring money through services like Western Union or MoneyGram is risky because it's nearly impossible to get your money back. Government offices and honest companies won't ask you for advance payments.
Talk to someone. Before you give up your money or personal information, talk to someone you trust. Con artists want you to make decisions in a hurry. They might even threaten you. Slow down, check out the story, consult an expert, or tell a trusted family member or friend.
Hang up on robocalls. If you answer the phone and hear a recorded sales pitch, just hang up. These calls are illegal, and often the products are bogus. Don't press 1 to speak to a person or to be taken off the list. That could lead to more calls.
Be skeptical about free trial offers. Some companies use free trials to sign you up for products and then bill you every month until you cancel. Before you agree to a free trial, research the company and read the cancellation policy. And always review your monthly statements for charges you don't recognize.
Don't deposit a check from someone who you don't know and trust. Often, scammers will send people checks and ask that money be wired back to them. By law, banks must make funds from deposited checks available within days, but uncovering a fake check can take weeks. If a check you deposit turns out to be a fake, you will most likely be responsible for repaying the bank.
If you use a computer, you can do online searches on a suspected company or product. Type a company or product name into your favorite search engine with words like "review," "complaint" or "scam." Or search for a phrase that describes your situation, like "IRS call." You can even search for phone numbers to see if other people have reported them as scams.
Sign up for free scam alerts from the FTC at ftc.gov/scams. Get the latest tips and advice about scams sent right to your inbox.
If you spot a scam, report it at ftc.gov/complaint. Your reports help the FTC and other law enforcement investigate scams and bring crooks to justice.
If a suspected scammer claims to be with The Bank of Marion or any of our branches, hang up and call us at 276.783.3116 or Long Distance at 800.772.1807. Our Security Department is always available to help and advise. If you have an account with us, we can review your account for any suspicious activity.
---
Identity Theft
Identity (ID) theft is a crime where a thief steals your personal information, such as your full name or social security number, to commit fraud. The identity thief can use your information to fraudulently apply for credit, file taxes, or get medical services. These acts can damage your credit status, and cost you time and money to restore your good name. You may not know that you are the victim of ID theft until you experience a financial consequence (mystery bills, credit collections, denied loans) from actions that the thief has taken with your stolen identity. 
Here are some basic steps that you can take to help protect yourself from identity theft:
Secure your social security number. Don't carry your social security card in your wallet or write your number on your checks. Only give out your social security number (SSN) when absolutely necessary and make sure the person you give it to is trustworthy.
Don't respond to unsolicited requests for personal information (your name, birthdate, social security number, or bank account number) by phone, mail, or online. 
Watch out for "shoulder surfers." Shield the keypad when typing your passwords on computers and at ATMs. 
Collect mail promptly. Ask the post office to put your mail on hold when you are away from home. 
Pay attention to your billing cycles. If bills or financial statements are late, contact the sender.
Review your receipts. Always ask for receipts of all transactions and for any incorrect charge slips as well. Promptly compare receipts with account statements. Watch for unauthorized transactions.
Shred receipts, credit offers, account statements, and expired cards, to prevent "dumpster divers" from getting your personal information.
Store personal information in a safe place at home and at work.
Install firewalls and virus-detection software on your home computer.
Create complex passwords that identity thieves cannot guess easily. Change your passwords if a company that you do business with has a breach of its databases
Order a copy of your credit report once a year and review to be certain that it doesn't include accounts that you have not opened. Check it more frequently if you suspect someone has gained access to your account information.
IdentityTheft.gov is the federal government's one-stop resource for identity theft victims. The site provides streamlined checklists and sample letters to guide you through the recovery process. Click on this button for the government's excellent Identity Theft website: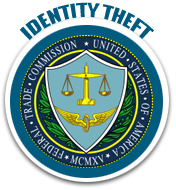 Please let us know how we may help if you suspect identity theft. Our Security Department is always available to help and advise. If you have an account with us, we can review your account for any suspicious activity. You may call us at 276.783.3116 or Long Distance at 800.772.1807
---
Here is more helpful information to counter other threats to your security: