News from The Bank of Marion
---
The White House announces measures to ensure the smallest firms have access to Paycheck Protection Program loans
February 22, 2021
The new measures include an exclusive application window for firms with fewer than 20 employees, a revised loan calculation and funding set-aside for sole proprietors and self-employed individuals, and new eligibility for businesses owned by those with certain felony convictions. Five weeks after the PPP reopened, roughly $150 billion—more than half of the amount authorized for the 2021 round of PPP—remains available. The current round of funding expires on March 31.‌
Specifically, the White House said that the Small Business Administration would:‌
Provide an exclusive 14-day window, starting Wednesday, Feb. 24, when only businesses with fewer than 20 employees are eligible to apply.
Set aside $1 billion for PPP loans for sole proprietors, independent contractors and self-employed individuals in low-to-moderate-income areas and revise the loan calculation formula for these applicants. (According to press reports, the revised formula would only be available to new applicants, not retroactive.)
Eliminate a rule restricting businesses at least 20% owned by an individual who was arrested for or convicted of a felony related to financial assistance fraud in the previous five years or any other felony within the previous year; the restriction will only apply to businesses with applicants or owners who are incarcerated from receiving PPP loans.
Eliminate a rule restricting businesses at least 20% owned by an individual who is delinquent on student debt from receiving PPP loans.
Clarify that non-citizens may apply using individual taxpayer identification numbers.‌
To prompt more applicants to self-report demographic data, SBA has updated the loan application form to include demographic data on the front page, the White House said. Meanwhile, "SBA is launching a new initiative to deepen its relationships with lenders," the White House added. "This model will increase opportunity for lenders to provide recommendations and ask questions about the PPP and drive resolution of open questions and concerns in a more streamlined way."
 
---
The Bank of Marion Appoints Board Members 
January 27, 2021 – Marion, VA   Perry D. "Pete" Mowbray, D.D.S., Chairman of the Board Directors of The Bank of Marion,  has announced the appointment of two area residents to that board.
Timothy W. "Tim" Carter, a resident of Rural Retreat, and a graduate of Chilhowie High School and Emory and Henry College, was recently named to the board. Mr. Carter co-owns and operates the general contracting and restoration firm, Red Oak Construction, with his family. The company has offices in Chilhowie and Wytheville.
"Tim Carter is a welcome addition to our board," Dr. Mowbray said. "He is a successful businessman and entrepreneur who understands the financial needs of small business owners throughout our service area. His experience and expertise will be great assets to our board and to The Bank of Marion in general."
Marion resident Dennis W. Perkins, D.D.S., was appointed to the board earlier.  Dr. Perkins is an Oral and Maxillofacial Surgeon and practices with Appalachian Oral and Maxillofacial Surgery of Marion. He is a graduate of Marion Senior High School and Virginia Commonwealth University in Richmond.
Dr. Perkins's post-graduate work was done at the Medical College of Virginia  and at the University of Illinois at Chicago Health and Science Center, where he was graduated with honors. He is a member of the Association of Maxillofacial Surgeons.
"We are fortunate to have Dr. Perkins on our board," Dr. Mowbray said. "He is a strong proponent of community banking and will well represent our medical and professional customers and communities."
---
The Bank of Marion's Charitable Giving Tops $100,000 in 2020
$46,000 in Christmas Season donations helped push The Bank of Marion's 2020 charitable donations to $111,000. During the weeks of December 14 and 21, the bank donated a total of $20,500 to food banks and church pantries in its service area.
"We have an annual goal for charitable giving." said Chris Snodgrass, the Bank's President and CEO. "Because of the increased need for food donations caused by COVID-19, we decided to use a large portion of our remaining 2020 charitable giving fund to help our local food distribution centers and churches that have taken on food pantry ministries. We know that there are people who donated food in the past who now must depend on such donations themselves."
During this same period, the bank made four charitable donations in honor of retired members of its board of directors.
$5,000 was donated in honor of Everette N. Umbarger, Jr. to the Mel Leaman Free Clinic, which serves low-income uninsured residents in Smyth, Washington and Grayson Counties with free medical care. The clinic's operating funds come from donations and grants.
St. Jude Children's Research Hospital received a $5,000 donation in honor of Donald W. Taylor. The hospital is headquartered in Memphis, Tennessee and has eight affiliated hospitals across the U.S. including Niswonger Children's Hospital in Johnson City.
$5,000 was donated to the Gracie Dimit Memorial Scholarship Find in honor of Joseph S. Tate. This fund was established as a memorial to Smyth County resident Gracie LeAnn Dimit to promote education and understanding.
The Wytheville Community College Educational Foundation received a $5,000 donation in honor of Cameron L. Wolfe, Jr. The foundation's mission is to foster and promote the growth, progress, and general welfare of Wytheville Community College.
The Bank of Marion also donated $5,500 in December to United Way of Southwestern Virginia.
Prior to these donations, the bank had already donated $65,000 to various charities, schools and other deserving organizations in 2020.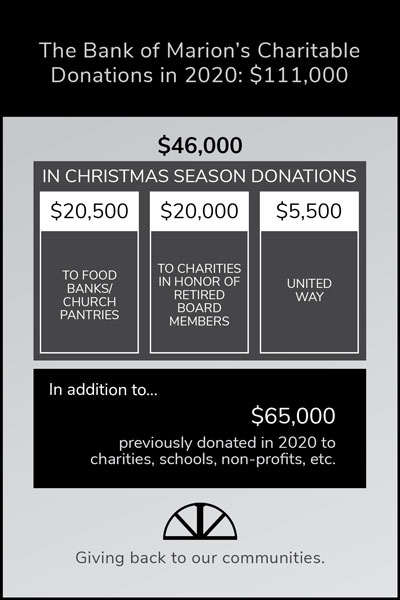 ---
Bank of Marion Board Honors Retiring Members
Marion, VA - August 24, 2020  The Board of Directors of The Bank of Marion has honored long-term members, Donald W. "Don" Taylor and Everette N. Umbarger, upon their recent retirement from the board. The Smyth County residents represent a combined total of almost four decades of service to the bank. Mr. Taylor was named to the board in 2000.  Mr. Umbarger joined the board two years later in 2002.
Mr. Taylor began his professional career in diesel mechanics, hydraulics and large construction equipment. For much of his early career, he was based in Hampton, Virginia with the McIlhany Equipment Company. This experience prepared him for his later endeavors in building systems for industrial, manufacturing, warehousing and commercial use.
He joined the H.S. Williams Company in 1967 as Fleet Manager for the Marion, Virginia-based building systems leader. He quickly assumed greater responsibilities and was promoted to Vice President for Manufacturing as the company expanded. During his tenure with the company, H.S. Williams became the largest metal buildings distributor and erector in the United States. Mr. Taylor became a part owner of the company in 1998 and was later named to the position of President and CEO; a post he held until he retired from H.S. Williams in 2010.
Mr. Taylor and his wife Barbara are members of First United Methodist Church in Marion, where he serves as chairman of the church's transportation committee. He has long been active in the Metal Building Manufacturers Association (MBMA), is a past member of the Independent Erectors Board, and a past member of the U.S. Army Reserve.
The Taylors have one daughter, Angela Taylor Kraus, who resides in Royal Oak, Michigan with her husband, Edwin.
In commenting about his tenure on the bank's board Mr. Taylor said, "I can't say enough about the board and the way it functions as a team. The board members work together to look after the bank's customers, staff and stockholders and maintain the bank's dedication to being a great hometown bank for all the communities it serves."
Everette Umbarger is a well-known retired Smyth County dairy farmer who began moving his fifth-generation Laurel Springs Farm from a dairy operation into beef cattle production in 2013. He then turned the farm over to his son, Seth, and retired from farming. Established in 1909, Laurel Springs Farm had operated as dairy farm for well over a century.
Seth and his wife, Courtney, now manage Laurel Springs Beef, a large natural beef production and distribution operation specializing in pasture-raised beef that is free of growth hormones, steroids, and antibiotics. The farm's products are distributed to restaurants throughout the region and are sold to consumers from the downtown Marion Laurel Springs Beef store.
Everette Umbarger has served on the boards of the Big Brothers & Big Sisters, Southern States Marion Cooperative, and the Chamber of Commerce of Smyth County. He is the Chairperson of the Laurel Springs United Methodist Church Board of Trustees and a Charter Member and Lifetime Member of the Adwolfe Fire department. He has served on the Thomas Bridge Water Corporation Board for 35 years.
Mr. Umbarger and his wife, Brenda, have two sons, Jason and Seth, and four grandchildren. The family is a past honoree as a Smyth County Farm Family of the Year.
"I'm proud to see the heritage of my family's Laurel Springs Farm continuing into future generations," Mr. Umbarger said. "In my tenure on the board of The Bank of Marion, I have observed and participated in the board's strong support of our communities' businesses, including agri-business. That support enables local businesses to thrive and grow through good times and bad. That also makes me proud."                                                                                                      
In announcing the retirement of Mr. Taylor and Mr. Umbarger from The Bank of Marion's board of directors Board Chairman Perry D. (Pete) Mowbray, D.D.S stated, "We will surely miss Everette and Don and the outstanding contributions they made to our board and to the mission and daily operations of The Bank of Marion. Their unique perspectives and steady guidance are deeply appreciated."
---
---