Notice: Due to an area-wide power outage, our Saltville branch (The Bank of Saltville) will close at 3:30 pm today.
News from The Bank of Marion
---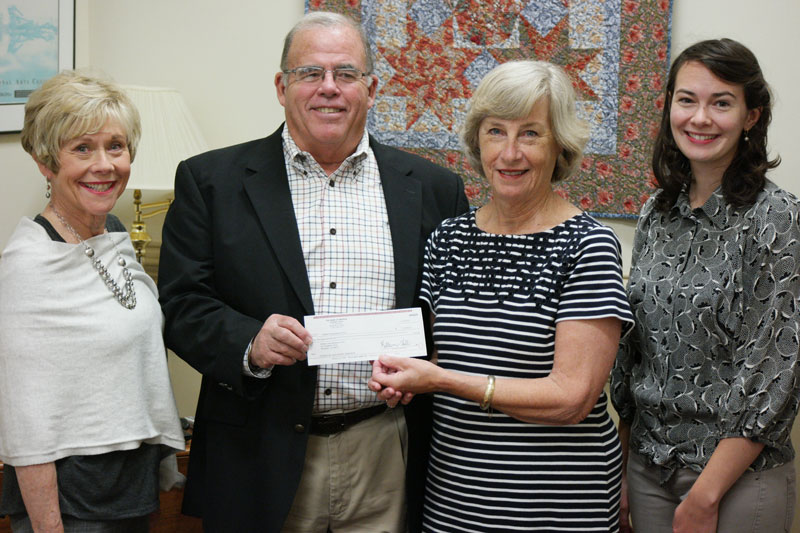 Tom Copenhaver, Member of The Bank of Marion's Board of Directors, presents a $10,000 donation check from the bank to Betsy White, Director of the William King Museum of Art in Abingdon.  Also pictured are Rita Copenhaver, Member of the Museum's Board of Trustees (left) and Sarah Stanley, Curator of Fine Art and Craft for the Museum (right). The donation will fund the Museum's upcoming exhibition celebrating the life of Marion's Laura Lu Scherer Copenhaver and her contribution to the cultural life and economy of our region.
The Bank of Marion Donates $10,000 to the William King Museum of Art
Marion, VA  October 9, 2019 - The Bank of Marion and the William King Museum of Art in Abingdon, Virginia have announced the bank's donation of $10,000 to the museum. The donation will support an upcoming exhibition that celebrates the life of Marion's Laura Lu Scherer Copenhaver and her contribution to the cultural life and economy of our region.
The exhibition will open on the museum's main lobby level in the United Coal Company/LeGard Galleries on February 13 and continue through September, 2020. The museum calls the exhibit a "groundbreaking look at one of the region's finest entrepreneurial women, illustrated by examples of textiles, furniture, images, and documents that tell her own story as well as that of her business, Rosemont Industries."
The William King exhibit coincides with the new Women in History sculpture project on the capitol grounds in Richmond. That project also honors Laura Copenhaver among other entrepreneurial women including Mary Draper Ingles, a frontierswoman who was kidnapped by Shawnee Indians and eventually escaped, and Elizabeth Keckly, a former slave and talented seamstress who bought her freedom and became the dressmaker for Mary Todd Lincoln.
Laura Copenhaver founded her unique Marion business in 1916 in response to the new consumers of that era who were seeking authentic American handmade crafts and furniture. Recognizing the quality of domestic goods hand-crafted here in the mountains of Southwestern Virginia, she developed a niche market for these unique Appalachian products.
It was a perfect setting for success. Southwestern Virginia's remoteness and isolation in those days ensured its culture-related goods were part of an intact heritage. Ms. Copenhaver found raw materials and contracted with local artisans to produce goods to her demanding specifications and then marketed them outside the region. The business she founded operated successfully for 99 years.
Laura Copenhaver was also a writer of poetry and fiction. Her poem, Heralds of Christ, became a popular hymn. As director of information for the Virginia Farm Bureau Federation, she played a significant role in the development of the region's agricultural economy. She was also a strong advocate of youth education in Appalachian communities. Ms. Copenhaver was inducted by the Library of Virginia in 2007 as one of the Virginia Women of History.
"We are proud to support the William King Museum of Art and the Laura Copenhaver exhibit," said Ed Stringer, president and CEO of The Bank of Marion. "Laura Copenhaver was not only one of Virginia's most successful entrepreneurs; she remains an inspiration to all women who aspire to make significant contributions to society through their work, their businesses or their civic life."
---
Board Retirements Announced by The Bank of Marion
September 10, 2019 – Marion, VA   The retirement of two long-time members of the board of directors of The Bank of Marion was announced this week by Board Chairman, Dr. Perry D. "Pete" Mowbray, Jr. The retiring directors are Joseph S. Tate (photo left) and Cameron L. Wolfe, Jr. (photo right), who have a collective 46 years of service on the board.
"We will certainly miss the wisdom and experience of these two outstanding board members," Dr. Mowbray said. "Their guidance during years of growth and expansion of our community bank and their steadfast dedication to the high standards of this institution are deeply appreciated by all who served on the board with them."
Joe Tate, a native of southwestern Virginia, was born in Coeburn and grew up in Bluefield, Virginia. He is a graduate of Emory & Henry College and Washington & Lee School of Law. After teaching European History at Brandywine College in Wilmington, Delaware for five years, Mr. Tate relocated to Marion in 1972 where he began his law practice and opened the first legal aid office in southwestern Virginia.
Mr. Tate later joined the law firm of Gwyn & Tate where he practiced until 1992. In that year, he was elected to the position of Judge of the 28th Judicial I District, which he held for 23 years. 
Mr. Tate served as a director of The Bank of Marion from 1982 until he began his judicial duties in 1992.  After retiring from the bench, he was again elected to The Bank's board in 2013.
Mr. Tate has been married to Jerilyn Boye Tate for 54 years. The Tates have two sons and eight grandchildren.
In reflecting on his years of service on The Bank's board, Mr. Tate said, "I especially enjoyed my relationships with other board members. Each brought different perspectives, but all are great people sharing the common mission of meeting the economic needs of the community." 
Cameron Wolfe, a 1960 graduate of Marion High School, began his career in architecture as a draftsman with Echols Sparger and Associates in Marion. He later entered Virginia Polytechnic Institute and State University where he graduated in 1970 with a bachelor's degree in Architecture.  He returned to Marion to continue his work with Echols Sparger and was involved in many community projects including Smyth County Community Hospital, the Smyth County Court House and the development of several new schools in the county.
In 1976 Mr. Wolfe started his own Architectural firm in Marion, where he has continued to practice his love of architecture for the last 43 years. He is licensed in
seven states and has provided consulting services in the Middle East and South East Asia.  He is a member of the National Council of Architectural Registration Board and the American Institute of Architects (A.I.A.).  He has served as President of the Blue Ridge Chapter of the American Institute of Architects, Director of Virginia Society A.I.A., and Director of the Regions of Virginia National A.I.A. He attended the Harvard Graduate School of Design in Cambridge, Massachusetts and has served as an off-site Professor of Architecture for Virginia Tech.
Mr. Wolfe is Chairman of the Town of Marion Planning Commission, Chairman of the Town of Marion Zoning Appeals Board, Chairman of the Smyth County Board of Building Appeals, Chairman of the Wytheville Community College Educational Foundation Board and served on the Board of Directors of The Bank of Marion for 30 years.
Mr. Wolfe and his wife of 57 years, Nancy Dixon Wolfe, have one son and four grandchildren.
---
Chris Snodgrass Joins the Bank of Marion Board
August 15, 2019 – Marion, VA Chris Snodgrass, C.P.A, and Vice President and Chief Financial Officer at The Bank of Marion, has been elected to the bank's board of directors. The announcement was made today by Board Chairman, Perry D. "Pete" Mowbray.
Mr. Snodgrass earned his bachelor's degree in finance from Virginia Tech in 1992. He was an Associate National Bank Examiner for the Comptroller of the Currency from 1992 to 1997. He served as Chief Financial Officer at the Bank of Floyd from 1997 until 1999 when he joined The Bank of Marion. He completed the University of South Carolina's Graduate School of Bank Investments and Financial Management in 2004.
Mr. Snodgrass is a member of the Smyth County Community Foundation's board of directors and has served as a board member and board chairman of The Mountain Empire Chapter of the American Red Cross. He has been a member of the Marion Rotary Club since 1999 and has served as President and Treasurer of that organization.
"We welcome Chris to The Bank of Marion's Board of Directors," said Dr. Mowbray. "He has been a tireless supporter of legislation to benefit customers of community banks in our region and across America. His work with the Virginia Association of Community Banks and the Independent Community Bankers of America is well recognized in the banking community. He will be a great asset to our board."
The Bank of Marion was established in 1874 and is the third oldest bank in Virginia. The bank has 17 branches throughout Southwestern Virginia and the Tri-Cities.
---
Wytheville Community College Honors Ed Stringer
Wytheville Community College recently awarded the WCC Distinguished Service Award to Ed Stringer, CEO of The Bank of Marion. The presentation was made at the college's Honors Convocation ceremony in the Snyder Auditorium at WCC's Wytheville campus.
Stringer has served on the board of directors of the Wytheville Community College Educational Foundation since 1992. He has led as both president and vice-president during his service. Stringer has also served as chair of the foundation's investment committee for many years.
"His leadership of the investment committee has been exemplary," said Crystal Cregger, WCC's vice president of finance and administration services, and foundation treasurer. "He has consistently led efforts to ensure diligence of the foundation's investment policy and growing the investment portfolio."
Stringer joined The Bank of Marion in 1980 and has served as President and CEO since 1996.
At the same convocation, Rural Retreat resident Susan Evans received the 2019 WCC Distinguished Teaching Award. Evans had previously received the 2007 Virginia Department of Education's Teacher of the Year award. After joining the college, she received the 2012 WCC Improvement of Instruction Award and the 2015 Outstanding Faculty Award.
Evans played a key role in the redesign of the developmental math program at WCC and other programs that resulted in improved student success rates at the college.
Additional information is available at:
https://www.wcc.vccs.edu/news/stringer-and-evans-receive-wcc-distinguished-service-and-teaching-awards