News from The Bank of Marion
---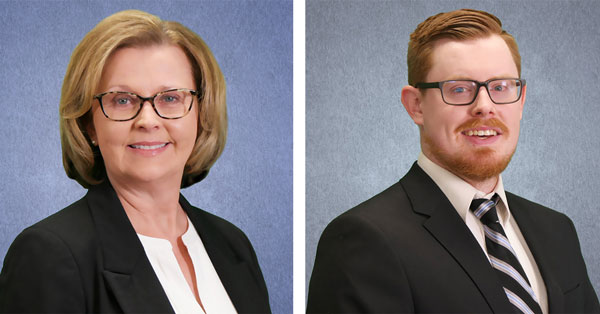 Beth Morefield & Ben Hartsock
The Bank of Marion Announces New Employees
June 8, 2021 – Marion, VA    Beth A. Morefield is the new Manager and Loan Officer at The Bank of Chilhowie, a branch of the The Bank of Marion. She replaced the former manager, Marcus Lomans, who was promoted to Assistant Operations Officer at the bank's main office in Marion, Virginia. 
Ms. Morefield has 36 years of experience in banking with 31 of them in bank management. She is a graduate of Castlewood High School and Virginia Intermont College in Bristol, Virginia, where she earned her Bachelor of Arts in Organizational Management.  She is a Castlewood, Virginia native but has lived in Abingdon for most of her life.
"I appreciate the fact that my staff members here at The Bank of Chilhowie are so involved in the community," she said. "That is a key aspect of hometown community banking and one that I earnestly endorse." 
Benjamin W. (Ben) Hartsock has joined The Bank of Marion's downtown Marion staff as a Loan Officer. He is originally from Scott County, Virginia and now lives in Rural Retreat with his wife, Alisyn, and daughter, Lockie Elizabeth.
Mr. Hartsock is a graduate of Twin Springs High School in Nicklesville, Virginia and Mountain Empire Community College in Big Stone Gap. He received his Bachelor's Degree in History with a minor in Business Administration from UVA-Wise. He is a former Personal Lending Specialist and Banking Relationship Manager.
Mr. Hartsock is an Eagle Scout and a volunteer with youth and GameChurch ministries. "I am delighted to join The Bank of Marion," Mr. Hartsock said. "I appreciate the way this bank seeks to build lasting relationships with its customers."
"Although both of these new employees have been in their jobs for some time, we wanted to announce that they have joined our bank family," said Chris Snodgrass, the bank's President and CEO. "We are lucky to have them both. Our customers will certainly benefit from their knowledge and experience."
---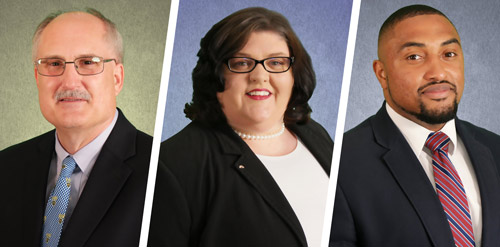 Ernie Catron, Heidi Lyall & Marcus Lomans
The Bank of Marion Announces Staff Promotions
Three veteran employees have been elevated to senior positions.
May 13, 2021 – Marion, VA   Ernest F. (Ernie) Catron of Chilhowie was promoted from Assistant Vice President to Vice President and Security Officer. He is a graduate of Marion Senior High School, Emory & Henry College, the Virginia Bankers School of Bank Management at the University of Virginia, and the Graduate School of Banking At Louisiana State University.
Mr. Catron joined the bank in 1981.
Mr. Catron is a Member of First United Methodist Church in Marion, a former Representative of Smyth County on the Revolving Loan Committee of the Mount Rogers Planning District Commission, and a former member of the Smyth County Chamber of Commerce.
 
Heidi D. Lyall, Professional of Human Resources (PHR) and Society of Human Resource Management Certified Professional (SHRM-CP), was named Vice President and Director of Human Resources.
The Rural Retreat native was first employed by the bank in 1997 as a part-time teller at The Bank of Rural Retreat and worked there during her summer breaks while in college. She is a graduate of Rural Retreat High School, Emory & Henry College, and Virginia Intermont College.
Mrs. Lyall is a board member and Vice Chair of Brock Hughes Medical Center in Wytheville, a member of Rural Retreat United Methodist Church, and a member of the Wythe County Planning Commission where she also serves as Secretary.
Marcus A. Lomans, the former Manager and Loan Officer at The Bank of Chilhowie, was recently promoted to Assistant Operations Officer at the bank's main office in Marion.
Mr. Lomans is a graduate of Chilhowie High School. He received his undergraduate degree in Business Management from the University of Virginia at Wise and his MBA with a Concentration in Management from King University. He was a member of two All-America Track and Field Teams while at King.
Mr. Lomans is an Assistant Coach of the Chilhowie High School Boys Basketball team and a member of the Board of Directors of the Smyth County Chamber of Commerce.
"It's not often that I have the pleasure of announcing the promotions of three employees at the same time. Especially three individuals with the outstanding talents, work ethics and dedication to community service as these," said Chris Snodgrass, President and CEO of The Bank of Marion. "We are indeed fortunate to have such a strong system-wide staff, and Ernie, Heidi and Marcus certainly exemplify that."
---
Sayers Joins Hometown Financial Services*
Marion, VA - 13 May 2021   James Gregory ("Greg") Sayers has joined Hometown Financial Services as an Investment Advisor Representative. The Marion resident has 19 years of experience in the financial services industry.
Before joining Hometown Financial Services, Mr. Sayers had worked since 2002 for the Horace Mann Companies of Springfield Illinois under his own enterprise, Sayers Financial Services, LLC. He specialized in retirement planning, investing, asset protection, and financial growth.  
"We are pleased that Greg has joined us", said Danny Rose, OSJ Branch Manager, Investment Advisor Representative with Hometown Financial Services. "Greg's extensive and diverse financial experience and his dedication to helping individuals and businesses build a strong, secure, financial future will be a great asset to our organization and to our customers."
Mr. Sayers is a 1988 graduate of Marion Senior High School and a 1992 graduate of Radford University. He and his wife, Jennifer Bordwine Sayers, reside in Marion with their sons Carter, 14, and Campbell, 10. A former Club Golf pro himself, Mr. Sayers, enjoys watching and coaching his sons in golf as well as basketball and baseball.
"I'm looking forward to my association with Hometown Financial Services and the opportunity to work with Danny Rose and his team to help our communities and their residents and businesses reach their financial goals," Mr. Sayers said.
Hometown Financial Services – Available through The Bank of Marion.
*Services and insurance products are offered through Cetera Investments Services LLC, member FINRA/SIPC. Advisory services are offered through Cetera Investment Advisors LLC. Neither firm is affiliated with the financial institution where investment services are offered.
Investments are: *Not FDIC/NCUSIF Insured *May lose value *Not financial Institution guaranteed *Not a deposit *Not insured by any federal government agency.
Registered address and registered telephone number:
101 E. Main Street, Marion, VA 24354  276-783-6646
---
Retiring Members of The Bank of Marion's Board of Directors Honored
Retiring members of The Bank of Marion's Board of Directors received resolutions of appreciation for their service to The Bank and to the community at the recent annual meeting of the shareholders of Southwest Virginia Bankshares, Inc.
The honored retiring board members are Everette N. Umbarger and Donald W. Taylor, both of Marion, Virginia. Mr. Umbarger served on the board for 18 years and Mr. Taylor served for 20 years.
The resolutions were presented by Thomas E. Copenhaver, Secretary of the Board of Directors.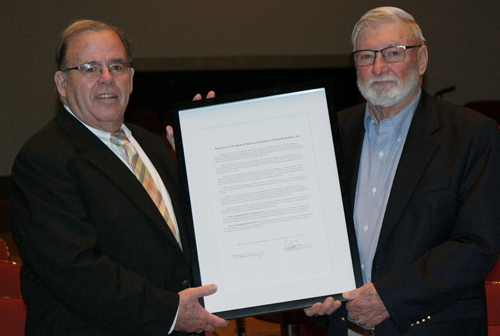 Thomas E. "Tom" Copenhaver, Secretary of the Board of Directors of The Bank of Marion (left) and outgoing board member, Everette N. Umbarger (right).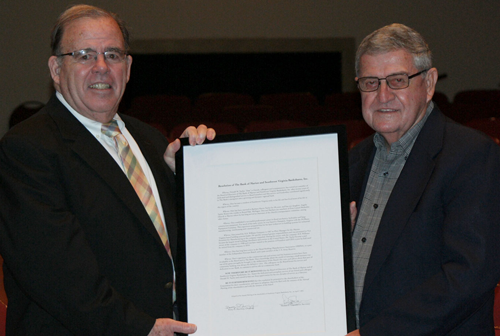 Thomas E. "Tom" Copenhaver, Secretary of the Board of Directors of The Bank of Marion (left) and outgoing board member, Donald W. "Don" Taylor (right).
 
---
The Paycheck Protection Program Ends
The Small Business Administration's (SBA) Paycheck Protection Program (PPP) funding has been exhausted.
"The PPP application portal stopped accepting applications yesterday for loans from most lenders," said Greg Griffin, The Bank of Marion Chief Lending Officer. "Our Bank will do everything in our power to ensure funding of loan applications received and processed before the SBA's announcement that funding had been depleted."
The SBA said that it has reserved approximately $6 billion in funding for previously submitted loan applications subject to "hold codes that have yet to be resolved." There is also approximately $8 billion remaining in congressionally mandated funding for PPP loans made by designated "community financial institutions," defined as minority depository institutions and community development financial institutions.
As of April 28, The Bank of Marion and its branches had made 1,070 loans totaling over $34.4 million in PPP loans to small businesses in our region. Most of these loans have been forgiven. Others are pending forgiveness based on qualifications.
Since its inception, the Paycheck Protection Program has provided $780 billion in forgivable loans to fund 10.7 million applications across the country. Congress had extended the program through the end of this month before it ran out of funds.
May 5, 2021
---
The Bank of Marion Appoints Board Members 
January 27, 2021 – Marion, VA   Perry D. "Pete" Mowbray, D.D.S., Chairman of the Board Directors of The Bank of Marion,  has announced the appointment of two area residents to that board.
Timothy W. "Tim" Carter, a resident of Rural Retreat, and a graduate of Chilhowie High School and Emory and Henry College, was recently named to the board. Mr. Carter co-owns and operates the general contracting and restoration firm, Red Oak Construction, with his family. The company has offices in Chilhowie and Wytheville.
"Tim Carter is a welcome addition to our board," Dr. Mowbray said. "He is a successful businessman and entrepreneur who understands the financial needs of small business owners throughout our service area. His experience and expertise will be great assets to our board and to The Bank of Marion in general."
Marion resident Dennis W. Perkins, D.D.S., was appointed to the board earlier.  Dr. Perkins is an Oral and Maxillofacial Surgeon and practices with Appalachian Oral and Maxillofacial Surgery of Marion. He is a graduate of Marion Senior High School and Virginia Commonwealth University in Richmond.
Dr. Perkins's post-graduate work was done at the Medical College of Virginia  and at the University of Illinois at Chicago Health and Science Center, where he was graduated with honors. He is a member of the Association of Maxillofacial Surgeons.
"We are fortunate to have Dr. Perkins on our board," Dr. Mowbray said. "He is a strong proponent of community banking and will well represent our medical and professional customers and communities."
---
The Bank of Marion's Charitable Giving Tops $100,000 in 2020
$46,000 in Christmas Season donations helped push The Bank of Marion's 2020 charitable donations to $111,000. During the weeks of December 14 and 21, the bank donated a total of $20,500 to food banks and church pantries in its service area.
"We have an annual goal for charitable giving." said Chris Snodgrass, the Bank's President and CEO. "Because of the increased need for food donations caused by COVID-19, we decided to use a large portion of our remaining 2020 charitable giving fund to help our local food distribution centers and churches that have taken on food pantry ministries. We know that there are people who donated food in the past who now must depend on such donations themselves."
During this same period, the bank made four charitable donations in honor of retired members of its board of directors.
$5,000 was donated in honor of Everette N. Umbarger, Jr. to the Mel Leaman Free Clinic, which serves low-income uninsured residents in Smyth, Washington and Grayson Counties with free medical care. The clinic's operating funds come from donations and grants.
St. Jude Children's Research Hospital received a $5,000 donation in honor of Donald W. Taylor. The hospital is headquartered in Memphis, Tennessee and has eight affiliated hospitals across the U.S. including Niswonger Children's Hospital in Johnson City.
$5,000 was donated to the Gracie Dimit Memorial Scholarship Find in honor of Joseph S. Tate. This fund was established as a memorial to Smyth County resident Gracie LeAnn Dimit to promote education and understanding.
The Wytheville Community College Educational Foundation received a $5,000 donation in honor of Cameron L. Wolfe, Jr. The foundation's mission is to foster and promote the growth, progress, and general welfare of Wytheville Community College.
The Bank of Marion also donated $5,500 in December to United Way of Southwestern Virginia.
Prior to these donations, the bank had already donated $65,000 to various charities, schools and other deserving organizations in 2020.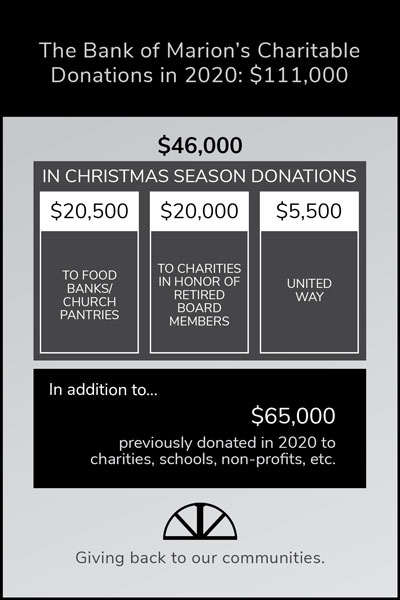 ---
Bank of Marion Board Honors Retiring Members
Marion, VA - August 24, 2020  The Board of Directors of The Bank of Marion has honored long-term members, Donald W. "Don" Taylor and Everette N. Umbarger, upon their recent retirement from the board. The Smyth County residents represent a combined total of almost four decades of service to the bank. Mr. Taylor was named to the board in 2000.  Mr. Umbarger joined the board two years later in 2002.
Mr. Taylor began his professional career in diesel mechanics, hydraulics and large construction equipment. For much of his early career, he was based in Hampton, Virginia with the McIlhany Equipment Company. This experience prepared him for his later endeavors in building systems for industrial, manufacturing, warehousing and commercial use.
He joined the H.S. Williams Company in 1967 as Fleet Manager for the Marion, Virginia-based building systems leader. He quickly assumed greater responsibilities and was promoted to Vice President for Manufacturing as the company expanded. During his tenure with the company, H.S. Williams became the largest metal buildings distributor and erector in the United States. Mr. Taylor became a part owner of the company in 1998 and was later named to the position of President and CEO; a post he held until he retired from H.S. Williams in 2010.
Mr. Taylor and his wife Barbara are members of First United Methodist Church in Marion, where he serves as chairman of the church's transportation committee. He has long been active in the Metal Building Manufacturers Association (MBMA), is a past member of the Independent Erectors Board, and a past member of the U.S. Army Reserve.
The Taylors have one daughter, Angela Taylor Kraus, who resides in Royal Oak, Michigan with her husband, Edwin.
In commenting about his tenure on the bank's board Mr. Taylor said, "I can't say enough about the board and the way it functions as a team. The board members work together to look after the bank's customers, staff and stockholders and maintain the bank's dedication to being a great hometown bank for all the communities it serves."
Everette Umbarger is a well-known retired Smyth County dairy farmer who began moving his fifth-generation Laurel Springs Farm from a dairy operation into beef cattle production in 2013. He then turned the farm over to his son, Seth, and retired from farming. Established in 1909, Laurel Springs Farm had operated as dairy farm for well over a century.
Seth and his wife, Courtney, now manage Laurel Springs Beef, a large natural beef production and distribution operation specializing in pasture-raised beef that is free of growth hormones, steroids, and antibiotics. The farm's products are distributed to restaurants throughout the region and are sold to consumers from the downtown Marion Laurel Springs Beef store.
Everette Umbarger has served on the boards of the Big Brothers & Big Sisters, Southern States Marion Cooperative, and the Chamber of Commerce of Smyth County. He is the Chairperson of the Laurel Springs United Methodist Church Board of Trustees and a Charter Member and Lifetime Member of the Adwolfe Fire department. He has served on the Thomas Bridge Water Corporation Board for 35 years.
Mr. Umbarger and his wife, Brenda, have two sons, Jason and Seth, and four grandchildren. The family is a past honoree as a Smyth County Farm Family of the Year.
"I'm proud to see the heritage of my family's Laurel Springs Farm continuing into future generations," Mr. Umbarger said. "In my tenure on the board of The Bank of Marion, I have observed and participated in the board's strong support of our communities' businesses, including agri-business. That support enables local businesses to thrive and grow through good times and bad. That also makes me proud."                                                                                                      
In announcing the retirement of Mr. Taylor and Mr. Umbarger from The Bank of Marion's board of directors Board Chairman Perry D. (Pete) Mowbray, D.D.S stated, "We will surely miss Everette and Don and the outstanding contributions they made to our board and to the mission and daily operations of The Bank of Marion. Their unique perspectives and steady guidance are deeply appreciated."
---
---