Travel Club Tours
Not a Travel Club member? No problem. Contact Tammy Shuler at 276.783.3116 ext. 3325 to find out how you can try out our Travel Club program. Also ask about our great NEW checking accounts!
 
---
New England Fall Colors
September 26 – October 4, 2021
CANCELLED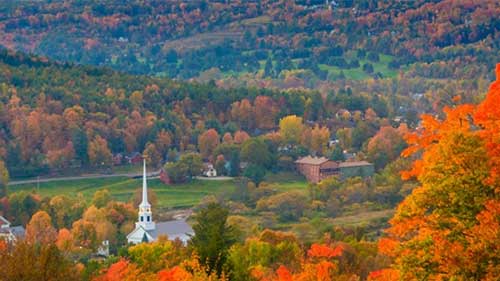 $250 deposit due at Sign-up or Pay-in-Full at sign-up since balance due date is end of July 2021. *Trip Cancellation insurance is recommended.
Tour Highlights/Inclusions
Woodstock and Quechee Gorge, Green Mountain Sugarhouse, Cannon Mountain Tram, Flume Gorge, MS Mount Washington Cruise, Castle in the Clouds, Freeport – Home of LL Bean, Portland ME Tour, Boston, Paul Revere House not to mention beautiful scenery and mouth-watering experiences!
Single - $2,620
Double - $2,000 per person
Triple - $1,810 per person
New Tygart Flyer
October 15-16, 2021
CANCELLED / RESCHEDULED FOR OCTOBER 14, 2022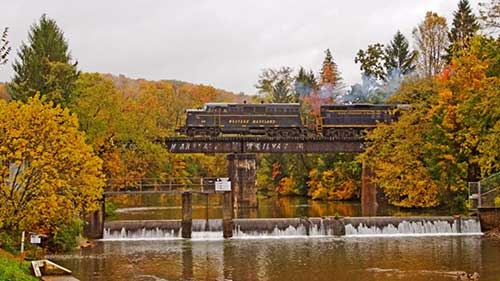 *Trip Cancellation insurance is recommended and available from Tours for You.
$100 deposit per person due at sign-up
Tour Highlights/Inclusions
Dinner Buffet and Entertainment at Isaac Jackson Hotel
Full hot breakfast prior to departure for Elkins Depot Welcome Center
Reserved seating and lunch aboard the New Tygart Flyer featuring two separate mountain grades, an "s" curve tunnel, passage into a 1,500 deep canyon and a high bridge over the rushing Shavers Fork of the Cheat River culminating at the inspirational "High Falls of Cheat" waterfall in one of the most remote and pristine settings in the Eastern United States.
Single - $480
Double - $407 per person
Triple - $383 per person
Quad - $371 per person
Christmas in Amish Country
November 12-14, 2021
CANCELLED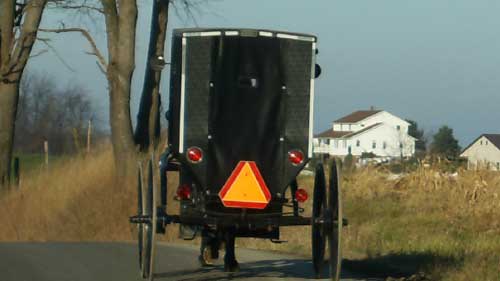 Highlights
Featuring two (2) delightful holiday shows, Heini's Cheese where you can sample over 50 varieties of locally made cheese from local Amish farm milk, Hershberger Bakery and Farm Market, Amish County Flea Market, Coblentz Chocolates, Year Round Christmas Shop, Warther Museum Festival of Trees, and more!
Single - $544
Double - $424 per person
Triple - $394 per person
Quad - $374 per person
*$100 deposit per person due at sign-up
Tulip Time on Jewels of the Rhine
the Netherlands • Germany • France • Switzerland
2022 Departure Date:  April 16, 2022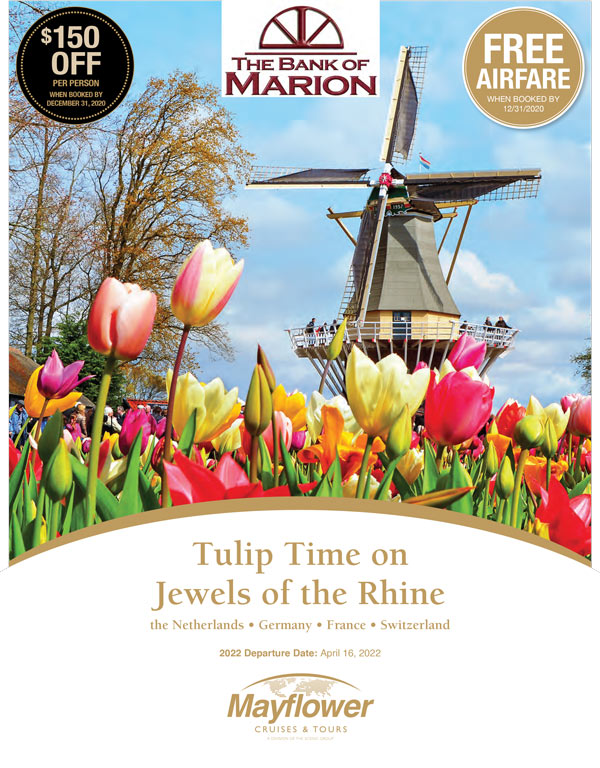 Highlights
Day 1-3 Amsterdam, The Netherlands including Keukenhof Gardens at the peak of tulip season
Day 4 Cologne, Germany (first day of cruising on the Rhine)
Day 5 Koblenz including UNESCO World Heritage Sites
Day 6 Mannheim/Heidelberg
Day 7 Kehl/Strasbourg, France
Day 8 Breisach, Germany' visit to a typical Black Forest village
Day 9 Basel/Lucerne, Switzerland, your Swiss adventure begins
Day 10 Lucerne is left free for you to explore on your own or join an optional excursion to Mt. Pilatus, a unique alpine experience.
Day 11 Bid 'auf wiedersehen' to Europe
 
A Few of the Exceptional Inclusions
23 Meals: 9 breakfasts, 6 lunches, 8 dinners
Visit four (4) countries
English-speaking crew and Shore excursion guides
All meals included onboard
All gratuities included
 
*Pricing per person varies depending on Stateroom choice.  Download for additional information and pricing details. Travelers Protection Plan (TPP) for River Cruises is $450 per person (optional)
Download, print, fill out and send the Registration Form to:
Tammy Shuler
P.O. Box 1067
Marion, VA 24354
Read the Terms & Conditions
---
NOTE: Trip cancellation/waiver insurance is available for purchase on most tours through an outside insurance company. Ask for details.
---
Travel Club
Bank of Marion customers have some great benefits. We think one of the best is our very popular Travel Club program.
Travel Club members can celebrate life on our bus tours and flight tours that take them to exciting attractions and welcoming destinations across the country both near and far. Our cruises are simply amazing and can be an adventure of a lifetime.
You will enjoy the company of your friends and neighbors and make new acquaintances during your Travel Club adventures. Best of all, the fees for these exciting hosted trips are very reasonable!
Travel Club membership is available to Fabulous 50 Interest Checking account holders, Direct Interest Checking account holders, and Platinum Interest Checking account holders.
For more information or to sign up for tours contact our in-house tour director, Tammy Shuler, at 276.783.3116 ext. 3325 or email tshuler@bomva.com for additional information or to make your reservations.