Bank of Marion Mobile Banking is easy.
And it's free!
Mobile Banking is the ultimate in convenience for managing your finances at any time and anywhere from your mobile device. View up-to-the minute account balances and recent transactions. Locate our branch banks and ATMs. Transfer funds between accounts and even pay your bills.
You must be enrolled in Bank of Marion Online Banking and have:
a mobile phone with SMS/text messaging, or
an internet enabled mobile device, or
a Smartphone
Here's how to enroll in Mobile Banking:
Log into your Bank of Marion Online Banking Account
Click the Mobile Banking tab
Accept the Mobile Banking Disclosure
Enroll your mobile device (REQUIRED)
You will then receive a text message from The Bank of Marion. Reply YES to complete your enrollment!
You are now enrolled in Mobile Banking!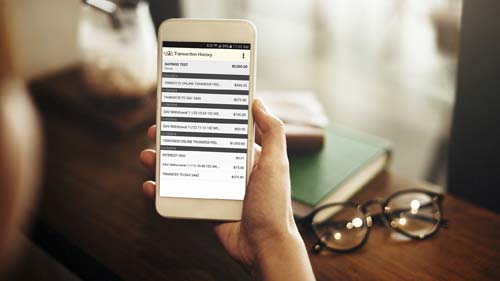 TEXT/SMS BANKING
Accessing your accounts couldn't be easier. You don't need a fancy, expensive phone to use our Mobile Banking. If you can send a text message or SMS, you can request information about your balances and recent transactions. We will send you a text message right back with your most up-to-date account details. It's as easy as sending a text.*
Important note: MAKE SURE YOU DON'T HAVE A SIGNATURE ATTACHED TO YOUR TEXT MESSAGE. THE SIGNATURE CAN CAUSE A NON-RESPONSE TO YOUR TEXT!
BROWSER BANKING 
By using the Web Browser on your mobile phone, you can check account balances, transfer funds, locate ATMs and The Bank of Marion's Hometown Community Branches. You can even pay bills with our optional Bill Pay service.*Use your mobile phone's Web Browser, then log into your regular online banking account, click OTHER SERVICES, then click MOBILE and enroll in Mobile Banking.
BlackBerry users, you can download our BlackBerry Mobile Banking Launcher, with the browser on your BlackBerry device. This will auto prompt installation of the Launcher, which allows even faster access to your account.
SMARTPHONE BANKING 
A Smartphone provides an even higher level of Mobile Banking convenience.
Download our free app for your for your iPhone, iPad or iPod Touch from the App Store. Just click on the App Store icon on your iPhone, iPad or iPod Touch device. Then search for the Bank of Marion App and download it directly to your iPhone, iPad or iPod Touch. 
iPhone iOS 3.2 and later versions are supported.
Android users can download our Android Mobile Banking app. 
Android 1.6 and later versions are supported.
---
If you're not yet a Bank of Marion Online Banking customer, THIS IS WHERE YOU ENROLL

* Mobile Banking is a FREE service provided by The Bank of Marion and its Hometown Community Branch Banks. Of course, your mobile device message and data rates may apply. The Bank of Marion's applicable standard account service fees and monthly maintenance fees will apply to mobile banking. These include fees for any non-sufficient funds (NSF) items or overdrafts on your account, monthly maintenance fees, and other service fees.SECURITY 
Your security is our number one concern. Our mobile Banking service employs the latest security safeguards and industry standard technologies to prevent unauthorized access to your accounts. We use advanced encryption technology to safeguard your personal data.
In some areas, mobile telephone service is slow. If you are in one of these areas, you may experience slow downloads of Mobile Banking data and may have to exercise a bit of patience.