The Bank of Marion
Better banking through dedicated personal service combined with the latest technologies!
Founded in 1874, The Bank of Marion is the third oldest bank in Virginia. That says a lot about the stability and success of our bank! Grounded in the principals of customer service and hometown banking, we have never wavered from our original mission.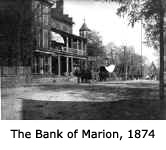 We have always embraced the latest proven technologies to ensure the very best in customer convenience. But we remain dedicated to old fashioned customer service and service to the communities we serve. That community service is reflected in our branch bank names, which are named for the communities they serve!
A Brief History
In the late nineteenth century, Minter Jackson, a Smyth County businessman, saw a need in his community for a bank. Not just any bank but a bank to serve and support the community. Mr. Jackson founded The Bank of Marion and was The Bank's first president.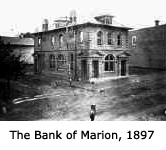 The bank was chartered in February 1874 and the Board of Directors held their first meeting on March of that year. The Bank of Marion opened its doors for business on April 12, 1874.
The Bank's first home was "the old Jackson Building" which was located on the comer of Main and Park Streets in Marion next to the Smyth County Courthouse. At that time, The Bank of Marion was the only bank between Abingdon and Wytheville, as well as the only one in Smyth, Tazewell and Grayson counties.
In 1897, The Bank of Marion built its second home at the corner of Main and Church streets in Marion to better serve its customers. In 1922 this structure was replaced by a larger, more modern banking facility.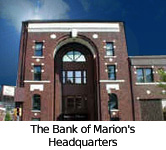 The Bank of Marion continues to change to meet customer's needs.
Recognizing the demand in other communities for a strong bank with personalized customer service, we expanded into additional markets in Southwestern Virginia and then added our first branch bank in Tennessee.
We are proud to continue our tradition of customer service that began in 1874. In an era of seemingly constant bank mergers and buyouts of community banks, we are committed to maintain our independence as a hometown bank and continue to expand into nearby communities to provide more customers with quality hometown banking service.