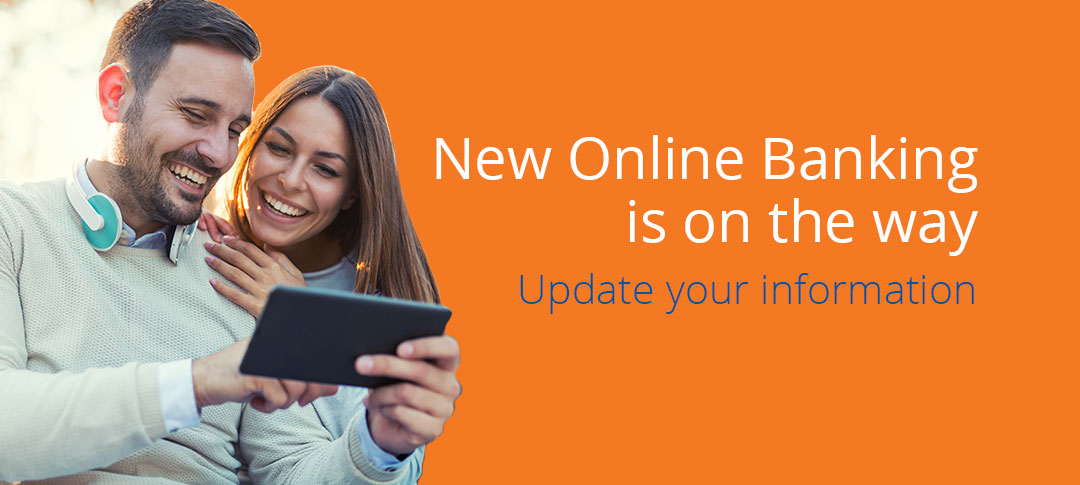 We are dedicated to providing our customers with the very best in financial management, convenience, and security. So, we are upgrading our online banking system.
 
Most of us don't really like change, but this is a change that you will welcome! Our online and mobile banking customers will be able to bank anytime and anywhere - on all devices - like never before.
When will this change happen?
Our online banking upgrade is scheduled to go live this autumn.
Is there anything that I have to do?
Yes, but it is easy! It's important that you either update or validate your contact information as soon as possible in order to log into the new system. It's critical that your email address and telephone number are correct. You can easily update your contact information in the manner you choose:
Via our current online banking system as follows: log in as usual, click Other Services and then click Change of Address. Make sure your email address and telephone are correct.
Via a telephone call to our main office at 276.783.3116 or 800.772.1807.
Via a telephone call to any of our branches. See a complete list of branches here. 
In person at any of our branches or at our main office.                                              
Will I have to re-register for online banking?
No. If you are currently using our online banking, you will have access. However, you will need to set up a new password. (If you like, you may use your current password or one you have used in the past.) Your new password will allow you to access both your online and mobile banking.
Will my scheduled transfers roll over into to the new system?
Yes, your scheduled transfers will roll over into the new system.  
Will my transaction history transfer over to the new system?
Yes, you will have access to your transaction history. Watch for additional details on this site.
Will I have access to my e-statement history?
Yes, you will also have access to your e-statement history if you are an e-statement subscriber. Watch for additional details on this site.
Are there minimum browser requirements for this new system?
The only browser requirement is that your browser must be HTML5 compatible. We recommend updating your browser to the latest version available - not just to ensure compatibility with the new online banking experience, but also to ensure that your online banking is as secure as possible. Browsers below the following versions are not supported:
Chrome, Version 30
Internet Explorer, Version 11 
Firefox, Version 24
Safari, Version 6                                                                                                                      
Can I use this new online banking system on my phone/tablet?
Absolutely. You can bank anytime, anywhere, from any device, conveniently and securely. You can download our mobile app on any Android or Apple device and it will provide a unified banking experience.  If you're on a platform other than Android or Apple, you can always access online banking via your HTML5-compatible mobile browser.
What is a unified banking experience?
A unified banking experience simply means that the look and feel of your online banking is consistent across all of your devices. It does not mean that the exact same features and functions are available on every device. It improves your banking experience by making navigation simple and familiar regardless of the device you use.
Watch this space for additional helpful information in the weeks to come. Learn about all the great features and advantages of our new and exciting online banking system!