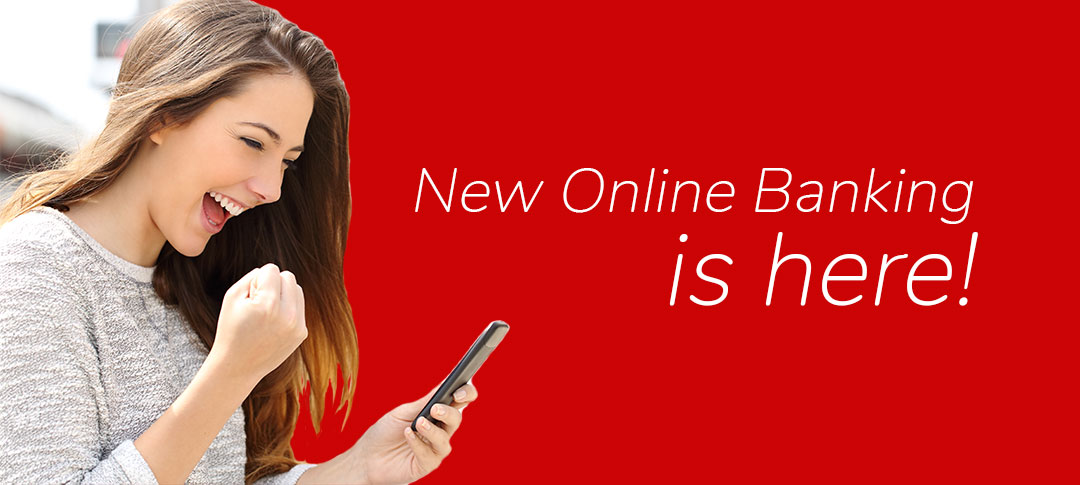 Our new Online Banking System is Live!
What our Online Banking customers need to know:                               
Just log into Online Banking with your current password as you normally do. You will be prompted to receive a Secure Access Code.  Once you receive and enter your Secure Access Code, you will then set up your new password. You are now all set! And your new password will allow you to access both your online and mobile banking.
 
The new mobile app is available.
APPLE USERS: Update your app by tapping the button below.
 

If you experience any problems downloading the new app, try uninstalling the old Apple app and download again.
NOTE: If your Apple device is set for automatic updates of our mobile banking app, you most likely won't have to do anything except set up your new password.
If you encounter any problems transitioning to our new Online Banking System, please contact us and we will happily assist. Once you start using the new system, we're sure you will love it!
You may also want to review the previously provided information below:
Will I have to re-register for online banking?
No. If you are currently using our online banking, you will have access. However, you will need to set up a new password. Instructions for doing this are provided in the "What you need to know" section above.
Will my scheduled transfers roll over into to the new system?
Yes, your scheduled transfers will roll over into the new system.  
Will my transaction history transfer over to the new system? 
Yes, you will have access to your transaction history. Watch for additional details on this site.
Will I have access to my e-statement history? 
Yes, you will also have access to your e-statement history if you are an e-statement subscriber. Watch for additional details on this site.
Are there minimum browser requirements for this new system?
The only browser requirement is that your browser must be HTML5 compatible. We recommend updating your browser to the latest version available - not just to ensure compatibility with the new online banking experience, but also to ensure that your online banking is as secure as possible. Browsers below the following versions are not supported:
Chrome, Version 30
Internet Explorer, Version 11 
Firefox, Version 24
Safari, Version 6                                                                                                                      
Can I use this new online banking system on my phone/tablet?
Absolutely. You can bank anytime, anywhere, from any device, conveniently and securely. You can download our mobile app on any Android or Apple device and it will provide a unified banking experience.  If you're on a platform other than Android or Apple, you can always access online banking via your HTML5-compatible mobile browser?
I'm a Quicken user. What do I need to do to use Quicken with the new system?
You will need to modify your Quicken settings to ensure smooth transition of your data.  
We want you to be happy with our new Online Banking system and its many new features and capabilities. If you have any issues or questions, please contact us for assistance.