DON'T MISS OUT ON THE CONVENIENCE AND SECURITY OF ESTATEMENTS!
Replace your paper statements now and start enjoying all the advantages that eStatements bring.
 
INSTANT AVAILABILITY
Review your statements at the click of a button and as soon as they are available. No waiting for them to be printed. No withing for the mail. And you will receive an email telling you when your statements are ready.
BETTER SECURITY
Your statements are stored behind a firewall and are sent to you by encrypted transmission. They are available only to you, so the possibility of a paper statement being lost or delivered to an incorrect address is eliminated.
REDUCE PAPER WASTE
Eliminate paper clutter. Be environmentally friendly.  Save trees! And no worries about losing or misplacing paper statements.
IMMEDIATE ACCESS
No matter where you are, if you have a mobile device or access to a computer, you have access to your statements.
SIMPLE AND EASY ENROLLMENT
Just follow these steps to enroll:
Log in to Online Banking
Select TRANSACTIONS from the menu
Select ESTATEMENT ENROLLMENT from the dropdown
Complete validation steps by copy and pasting or typing the supplied 8 character code into the validation code box.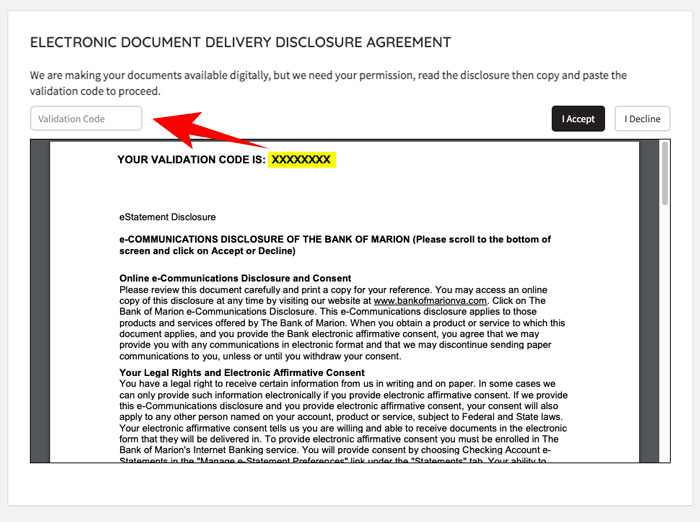 You are now ready to set up your own personal preferences for eStatements!
Presently, eStatement enrollment is not available to Android users through our banking app. Please use an internet browser to complete enrollment through online banking. Once enrolled, statements can be accessed through the banking app.
If you haven't signed up for Online Banking yet, now is a great time to do it. Enroll in Online Banking.