PPP Extended Through May 31
President Biden has signed a bipartisan bill to extend the Paycheck Protection Program (PPP) through May 31. This means that we can continue to accept PPP loan applications from small businesses throughout the region we serve.
A few highlights:
 
Covered eligible expenses have been expanded.
 
The legislation provides a "second draw" option for prior PPP borrowers.
 
A simplified PPP forgiveness process allows PPP loans of $150,000 or less to be forgiven after the borrower completes a one-page attestation.
                                                          
Self-employed farmers who apply for PPP loans will find newly expanded access to loans, along with simplified qualification for loan application and loan forgiveness.
 
The legislation repeals the CARES Act provision that required PPP borrowers to deduct the amount of their EIDL advance from their PPP forgiveness amount.
 
$15 billion is set aside specifically for first and second draws issued by community financial institutions, including community development financial institutions and minority depository institutions.
Please complete one of the appropriate forms below and return it it your loan officer or local branch manager.
---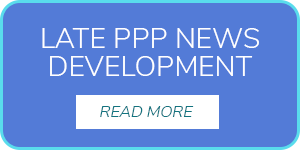 ---
NEW PAYCHECK PROTECTION PROGRAM EXPLAINED
Congress has appropriated approximately $285 billion to the Small Business Administration (SBA) to reopen the Paycheck Protection Program (PPP) for first-time and second-time borrowers.
PPP loans are now available for first-time borrowers (First Draw PPP Loan). Loans are also available for a second draw of PPP funds (Second Draw PPP Loan).
The Second Draw funds are for small businesses with 300 or fewer employees that have sustained a 25% drop in revenue in any quarter of 2020 when compared to the same quarter in 2019. To receive a second draw PPP loan, a business must use or have used the full amount of their first PPP loan. The maximum second-draw loan amount is $2 million.
 
First Draw PPP Loans as Amended by the recent Economic Aid Act
Unlike PPP loans made prior to August 8, 2020, new first-time applicants, including farmers and ranchers, will have the ability to use either 2019 or 2020 when calculating their maximum loan amount. The maximum loan amount remains the lesser of 2.5x average monthly payroll or $10 million.
Covered eligible expenses are expanded and now include:
•  Payroll costs
•  Rent
•  Mortgage interest
•  Utilities
•  Operations expenditures
•  Property damage costs
•  Supplier costs, and
•  PPE (worker protection) expenditures
Eligibility Requirements for First Draw PPP Loans
Eligible applications who did not receive a PPP loan prior to August 8, 2020 will have the ability to apply for a PPP First Draw Loan on or before March 31, 2021.   Businesses will need to prove they were in operation on February 15, 2020, are not permanently closed, and are not excluded based on other ineligibility criteria.
Loan Increase Request for First Draw PPP Loans
Loan increases are allowed for partnerships if the original PPP loan did not include compensation for partners, for seasonal employers, and in other circumstances laid out below.
Other PPP borrowers may be eligible to reapply or request an increase to their PPP loan amount if a borrower:
 
•  returned all of a PPP loan and is eligible under current PPP rules.
•  returned part of a PPP loan; or
•  did not accept the full amount of an approved PPP loan
Second Draw PPP Loans
Overview
Second Draw PPP Loans are generally subject to the same terms, conditions and requirements as First Draw PPP Loans." These include: 
The guarantee percentage is 100%. 
No collateral is required. 
No personal guarantees are required. 
The interest rate will be 100 basis points or 1%, calculated on a non-compounding, non-adjustable basis. 
The maturity is five years. 
All loans will be processed by all lenders under delegated authority and lenders will be permitted to rely on certifications of the borrower to determine the borrower's eligibility and use of loan proceeds. 
In addition, the documentation required to substantiate an applicant's payroll cost calculations is generally the same as the documentation required for First Draw PPP Loans.
As with the First Draw, most entities may borrow 2.5 times their monthly payroll cost or $2 million (whichever is less). Notably, a borrower in the Accommodation and Food Services sector, with NAICS code beginning with 72 (e.g., restaurant), may borrow 3.5 times its monthly payroll costs.
Eligibility Requirements for Borrowers for Second Draw PPP Loan
A borrower is eligible for a Second Draw PPP Loan only if the borrower satisfies all of the following:
Is a business concern, independent contractor, eligible self-employed individual, sole proprietor, nonprofit organization eligible for a First Draw PPP Loan, veteran's organization, Tribal business concern, housing cooperative, small agricultural cooperative, eligible 501(c)(6) organization or destination marketing organization, or an eligible nonprofit news organization.
 
Has 300 or fewer employees.
 

Exception: A business with a North American Industry Classification System (NAICS) code beginning with 72 and eligible news organizations with more than one physical location (and each location has no more than 300 employees).
 

Experienced a revenue reduction of 25% or greater in 2020 relative to 2019 (as described in the next section of this staff analysis).
 
Previously received a First Draw PPP Loan.
 
Has used, or will use, the full amount of the First Draw PPP Loan (on eligible expenses under the PPP rules) the borrower previously received, in accordance with the First Draw IFR, on or before the expected date on which the Second Draw PPP Loan is disbursed to the borrower.
 
The "full amount" includes the amount of any increase on the borrower's First Draw PPP Loan made pursuant to the Economic Aid Act.
The same affiliation rules that apply to First Draw PPP Loans apply to Second Draw PPP Loans. In most cases, a borrower is considered together with its affiliates to determine eligibility for the PPP. The CARES Act waived the affiliation rules for certain categories of borrowers, and the Small Business Act, as amended by the Economic Aid Act, applies the same waivers to Second Draw PPP Loans, adds a waiver for certain eligible news organizations, and makes adjustments to reflect the reduced sized requirement for Second Draw PPP Loans.
Excluded Entities
An entity that is ineligible to receive a First Draw PPP Loan under the CARES Act or under the First Draw IFR also is ineligible for a Second Draw PPP Loan.
Maximum Loan Amount
Generally, the maximum amount of a Second Draw PPP Loan is the lesser of 2.5 months of the borrower's average monthly payroll costs or $2 million. As part of the loan process, the borrower must certify that they have provided documentation verifying the number of full-time equivalent employees on payroll at the time of application.
Please note that this is not intended to be a comprehensive description of the PPP section of the Consolidated Appropriations Act. It is intended only to provide general information about PPP that may be helpful to small business owners in our service area.
More in-depth information is available directly from the SBA.