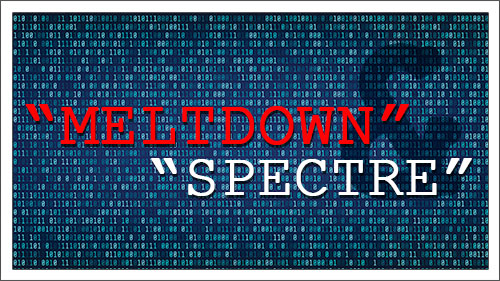 Meltdown and Spectre: What You Need to Know
The recent news coverage of two security flaws, "Meltdown" and "Spectre", which were discovered within computer systems worldwide, have raised concerns. While no related cyberattacks have been reported as of now, these flaws could potentially allow attackers to view sensitive data stored in desktop computers, laptops, tablets, smartphones and cloud services. Many experts agree that exploiting these flaws to steal sensitive data would be difficult, but they are still evaluating how hackers might take advantage of the flaws.
---
What are we doing about this situation?
The security of our customers' information is always our top priority. We update our software and hardware with the latest stable patches and rigorously test to verify they are correctly deployed.  We have many layers of advanced security in place to protect our systems and customer information. These layers limit our exposure to existing and emerging threats.
What should you should do to protect your personal data?
There is no evidence at this time that hackers have exploited these flaws. Computer hardware and software companies are working to fix the problem. In the meantime, there are some measures that you can take to protect your computers and other devices.
Watch for trusted companies like your computer or device manufacturer, or the developers of your operating systems (Microsoft, or Apple) to offer patches or fixes.
Update your software immediately or turn on automatic updates.
Avoid questionable websites.
Be careful what you click or download.
Monitor your accounts for suspicious activity.
Never open emails from someone you don't know.
Always remember that we will never ask you for your personal information or passwords.
Be aware that shady characters are already trying to take advantage of this situation to trick people into downloading malware that they claim will fix the "Meltdown" and "Spectre" issues. Don't fall for these scams.