How to use P2P
Person to Person Payments
A free Online Banking feature.
You must be enrolled in 
Online Banking
to use P2P.
---
If you're hesitant to handle cash, another safe, secure and FREE option of sending money to another person is P2P. This can be done through online banking or our mobile app.
Note: You and the person you're sending money to must have a debit card. You never see each other's information, but you each must use your debit cards to complete the transfer.
To send money to another person using P2P, login to online banking or our mobile app...
In the navigation menu, tap Transactions > Send Money/P2P. 
 
On the Send Money page, enter the the recipient's name, email address or phone number, and the amount you are sending. 
Tip: On mobile you can select the "person" icon in the Recipient's Name field to choose someone from your phonebook. However, the recipient's phone must be able to receive text messages. Text message rates may apply.  (Image 1)
 
Choose which debit card you would like to use, and a memo if you wish. Select Continue. (Image 1)
 
Confirm the details by selecting Continue or select Edit to make changes to any of the details. (Image 2)
 
Enter your PIN to verify the transaction. The numbers will likely be out of order, and will scramble with each digit you push. This is for extra protection. After choosing your last number, select Submit. (Image 3)
 
You should receive a "Success" message with transfer details. Select Close. (Image 4)
The recipient will get either an email or text message with a link. They just need to click or tap on the link which will take them to a secure page where they will enter their information, including a debit card number. See other important information below the images.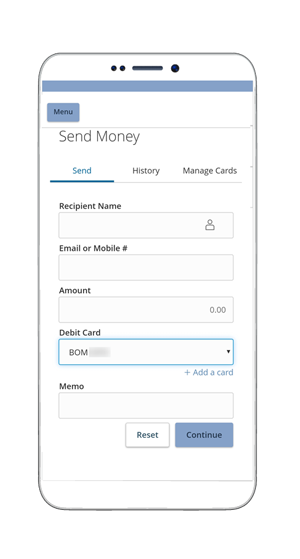 Image 1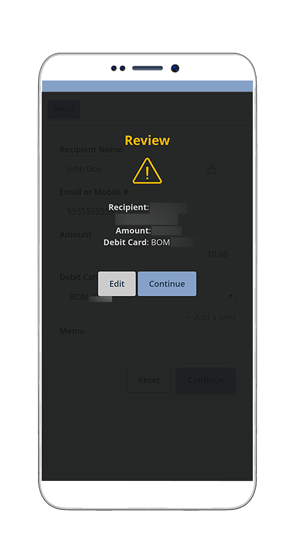 Image 2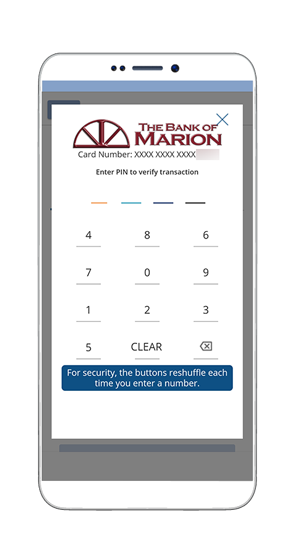 Image 3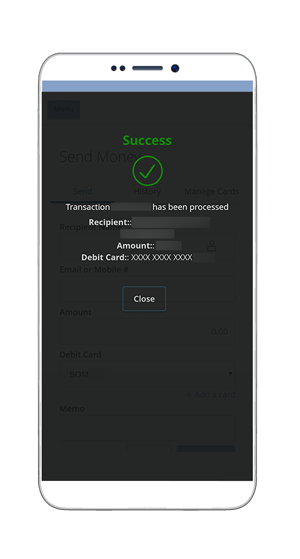 Image 4
---
Other important information:
The receipient has 2 weeks to to claim the money. After that time, the transaction will be canceled and the money returned to the sender's account.
Once the money is sent, there is no 'stop payment' other than if the receipent doesn't claim the money. So, be careful that you choose the right name, number, email address and amount.
There is a limit of $1,500.
Although the transfer may show as a pending transaction fairly quickly, the transaction typically completes in one business day.